Pacific Connections: Gender Diversity Across Moana Nui – Kapaemahu Speaker Series
Bishop Museum's Atherton Hālau and livestreamed via YouTube Live – July 29, 2022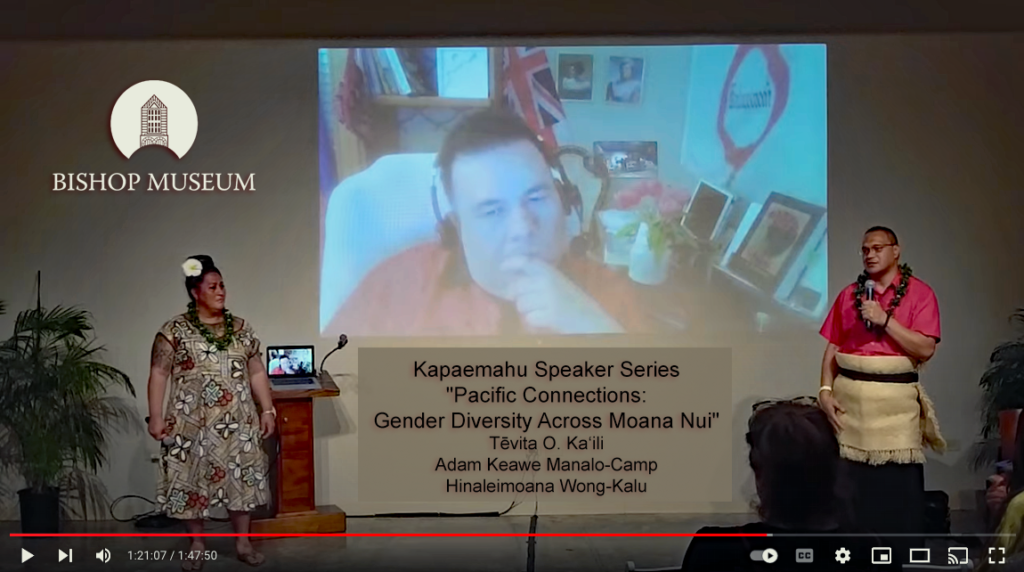 In Hawaiʻi, the creation chant, the Kumulipo, traces the origins of life to the combining of paired opposites: light and dark, earth and sky, wet and dry, male and female.
In conversation with co-curator Hinaleimoana Wong-Kalu, Professor Tēvita O. Kaʻili shares stories of gender duality from his native Tonga, and Hawaiian historian Adam Keawe Manalo-Camp discusses his research and storytelling initiatives to help revive Hawaiian understandings and histories of gender fluidity and same-sex relationships, including among revered rulers and nobles.
Watch the YouTube Live recording here.
Speakers include:
— Adam Keawe Manalo-Camp, Hawaiian cultural historian, President of Indigenous Pasifika
— Tēvita O. Kaʻili, Anthropologist and Dean of Pacific Studies at Brigham Young University — Hawaiʻi
— Hinaleimoana Wong-Kalu, co-curator of "The Healer Stones of Kapaemahu," Kanaka Maoli teacher, cultural practitioner, and community leader
The Kapaemahu Program Series is generously supported by McInerny Foundation, Bank of Hawaii, Trustee.
Learn more about the exhibition: https://www.BishopMuseum.org/Kapaemahu